Acer TravelMate B3 series: the go-to notebooks for primary school students
Parents and teachers both agree on one thing: the size of a notebook is a key aspect to consider when choosing a student's device.
It's no surprise that the 11.6" was the most popular choice in schools in 2020. Are you looking for a device for your children or students that is both small in size, but also resistant and performing? Then you don't want to miss the Acer TravelMate B3 series.
Designed with particular attention to young learners from primary school, Acer TravelMate B3's 11.6" display makes it the ideal choice for parents who are struggling to find a laptop small enough to fit into their children's backpacks without hurdles. Students can easily carry it home and work on their assignments just as smoothly as they do in the classroom. 
On the other hand, the TravelMate B3 also makes teachers very happy: it can be easily used on school desks alongside books or scratchpads, making practical organisation much easier. It is not simply a matter of portability, tho. 
Acer TravelMate B3 features a long-lasting battery life, mechanically anchored keys, optional 4G LTE connectivity, optional Full HD webcam and blazing fast connection speeds, empowering students to get even more out of their classes, be they remote or in person.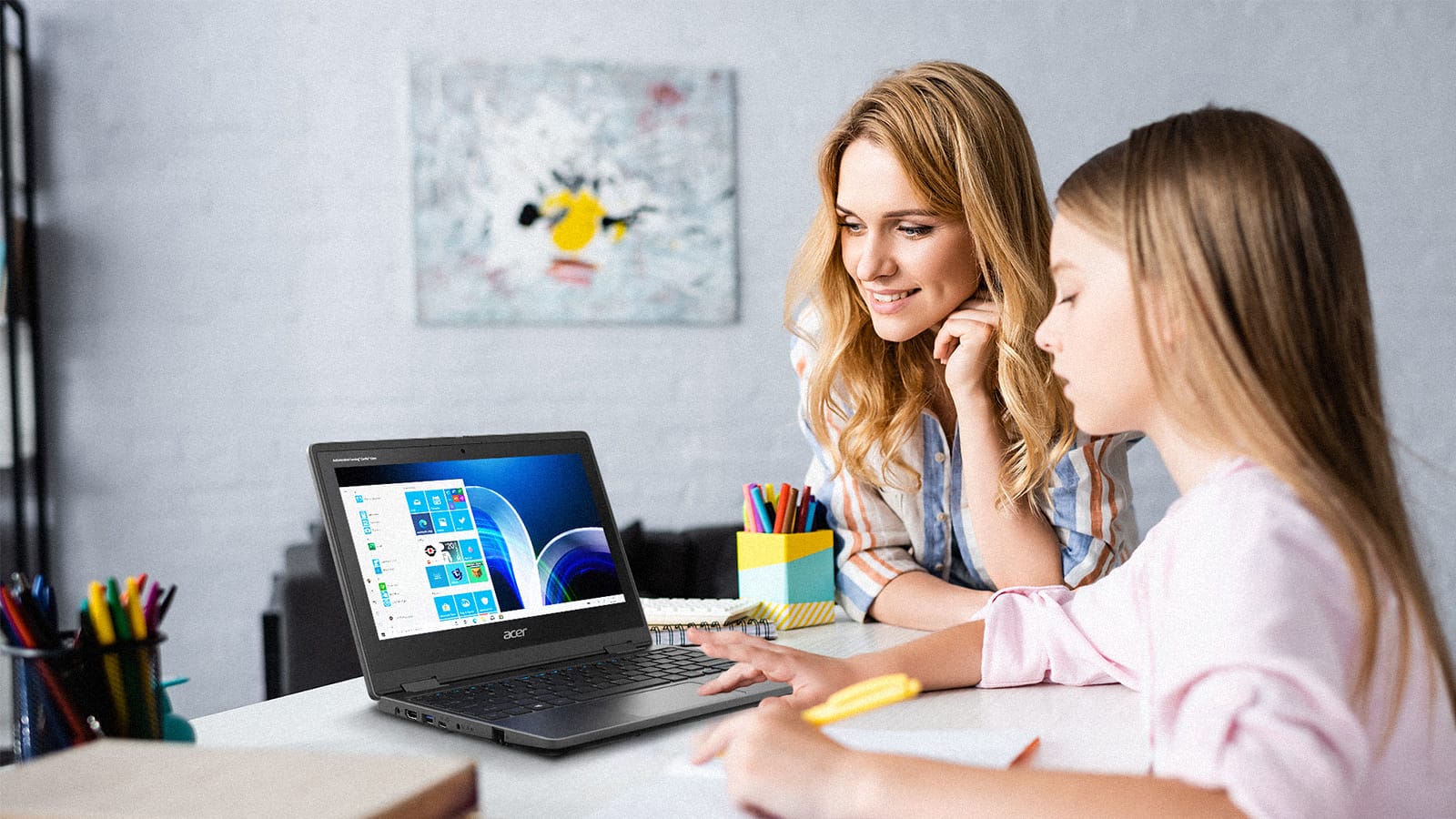 Not to mention its ultra-durable design, as you can't keep durability out of the equation when it comes to our lively students. The Military Standard (MIL-STD 810H2) certified impact-resistant design combined with the shock-absorbent bumper and drainage design keeps your kids' TravelMate protected from daily wear and tear.
Meet Acer TravelMate Spin B3
While the TravelMate B3 is already an all-around device suitable for hybrid, remote and in-person learning, Acer TravelMate Spin B3 takes interactive education to a whole new level while keeping the same size advantage.
The TravelMate Spin B3 is enhanced with a series of optional features, such as a 5 Megapixel HDR world-facing camera, 4G LTE connectivity, a Full HD webcam, and a dockable Wacom AES pen. Not to mention the Antimicrobial Corning® Gorilla® Glass3, flanked by internationally certified antimicrobial (silver-ion) solutions implemented on the keyboard, touchpad, and palm-rest surface.
But the real fun begins with the convertible design, which allows students to work together and learn in a multitude of situations, adapting to either tablet, tent, or display modes.
In addition, Acer TravelMate B3 and Acer TravelMate Spin B3 can rely on Windows 10's security and productivity, which will ensure the achievement of personalised learning outcomes for students.
Would you like to know more about our TravelMate B3 Series? Download the brochure here. Don't hesitate contact us if you want to discover our resources for education: acerforeducation.emea@acer.com