An Acer Chromebook for every teacher: Ante's success story from the Netherlands
We teamed up with Cloudwise in the Netherlands to provide every teacher of the Ante organisation with an Acer Chromebook to face the challenges of online education, for a total of 173 devices.
Cloudwise is a fast-growing company from Woerden, Netherlands. Their focus is offering to schools the IT support and hardware they need to deliver a personalised learning experience to their students. 
In 2018 the Dutch schools of SOBZ and Spil merged to become Ante. Soon all the schools of the group aligned themselves in the use of Google Classroom and the online COOL Platform to make the best out of online learning and easily share information, collaborate on documents and access their files from anywhere. By doing so, they all enhanced their collaboration through one single online portal and environment. Today, Ante consists of 12 schools with 250 employees and 2000 students. Their learning experience has already been enhanced by Acer Chromebook 311, a trustworthy device that is helping foster their skills and prepare them for their future. 
Acer Chromebook at Ante: the best companion to teach remotely 
As the importance of distance learning and remote meetings grew exponentially over the past year, Ante has decided to provide their teachers with their own device: the Acer Chromebook 314 (C933T). In the words of Peter Hulstein, School Director of the OBS de Wetering Primary School: 
"Teachers were using small student devices with low-quality cameras or their personal computers. Acer Chromebooks give them a smooth working experience thanks to the 14" touch screen, powerful WiFi 5 connection and a battery that works for two school days before it needs to be charged. This is also a big step forward in our commitment to working GDPR-compliant."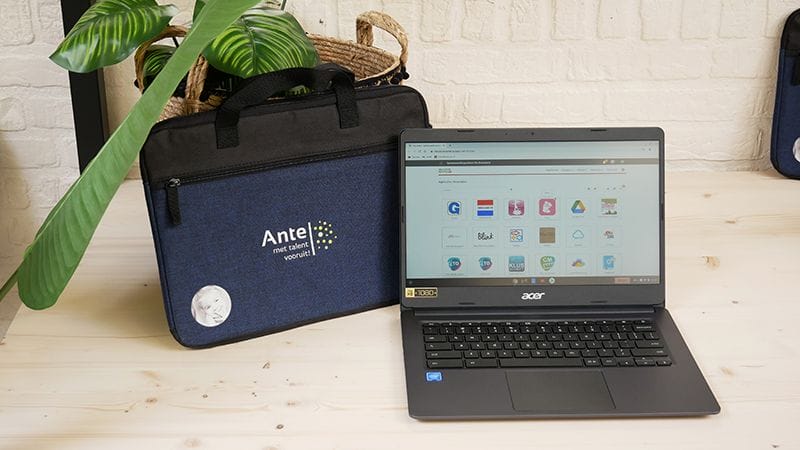 Hulstein continues by explaining how this implementation helped keep school data on safe servers and devices. In fact, now teachers can easily log in with their school accounts and work on the cloud safely. When their work is done, they simply log out from their Chromebooks. In a nutshell, teachers can access useful data without any concern.
In addition to security, the upgrade to Acer Chromebook provided great flexibility for schools' employees. With the lightweight design of the device and the padded case provided by Ante, the home-school route is now a comfortable experience. Plus, their part-time teachers can easily join meetings from home, making it easier for everyone to stay connected.
Acer for Education, Cloudwise and COOL come together 
Thanks to the cloud management offered by Cloudwise, teachers can work smoothly on their Chromebooks. They can now focus on elevating their skills in the use of the COOL and Google functionalities for education with no burden. 
As a matter of fact, Ante's Chairman of the board Geurt Morren, and Peter Hulstein confirm that teachers and students are happy with the COOL Platform. "They can find and use everything easily at school, but also from home. They just have to log in once into COOL and then have access to all their educational apps through the tiles in the dashboard. Teachers are very happy with the Monitoring module […] Also, the easy reset of student passwords by the teachers themselves is a popular feature."
"Cloudwise provides us with hardware, like the Acer Chromebooks, manages our school network and we're using their COOL Platform." Morren continues "We love the fact that we have one point of contact for everything. They're easy to reach, our questions are being answered quickly and overall they are very accessible."
Would you like to discover more about how Acer Chromebooks can implement your teaching experience? Don't hesitate to contact us: acerforeducation.emea@acer.com