Acer Esports Portfolio: a gaming companion for any educational need
Find the gaming companion for any educational need with Acer Esports Portfolio.
Esports is undoubtedly making heads turn in both the world of sports and entertainment. Business-wise, it is growing exponentially, and its presence in school is rapidly expanding.
Stating that esports is more than simply video gaming would be an understatement. Creating your own esports project in your school will not only keep your students engaged more than several traditional classes. It will also allow your students to develop the most requested hard and soft skills in the world of work in a pretty unique fashion. Not to mention its potentialities when it comes to creating a sense of sportsmanship and promoting teamwork. 
We have already discussed the benefits esports can bring in the field of education, and if you haven't already considered integrating it into your curriculum, the time may have come. Keep in mind that much like any other sport, you need to gear up your students with the right equipment for the best possible experience.
Thanks to the Acer Esports Portfolio, we will help you pick the companions that fit your school and students' needs.
Make enthusiasts feel like pros with Acer Nitro
Firstly, you will probably be considering starting with a short-term project, e.g. a Summer camp. 
If that's your case, Acer Nitro 5 is definitely your go-to notebook. Recently updated to include a new 11th Gen Intel® Core™ H35-series processor, NVIDIA GeForce GTX GPUs and up to 32 GB of DDR4 RAM, Acer Nitro 5 will allow your students to get into the game. Its portable design allows it to easily adapt to several contexts. Plus, its performances make it the best fit for enthusiasts who want to enjoy a variety of titles without giving up on speed.
On the other hand, what if you wanted to get involved in a long-term project, such as building your own esports lab? That would be a totally plausible choice. Probably, many of your students are already familiar with video gaming and would love to play on a regular basis also at school. In this hypothesis, Acer Nitro 50 is totally what you are looking for. 
It doesn't matter if your students are simply enthusiasts. The Nitro 50 desktop will enrich their gaming experience with powerful performances, while also representing a resourceful companion for other school activities, such as video editing or graphic design. Your players will be empowered by up to 64GB of DDR4 2933 RAM, a 10th Gen Intel® Core™ i7 Processor, high-speed storage and the NVIDIA® GeForce RTX3060 Ti, powered by the NVIDIA® Turing™ architecture, to deliver up to 6X the performance.
Complete your lab's gaming station with the Nitro VG2 monitor, which features NVIDIA® G-SYNC® Compatible display to bring your students a smooth, variable refresh rate (VRR) gaming experience that eliminates tearing, stuttering, artefacts, and flicker at refresh rates up to 240Hz.
Let your students master their gaming skills with Predator
Are your pupils already professional gamers? If you want to get them involved in a short-term project while also providing them with a powerful gaming experience, the Predator Helios 300 is your must-have for portable scenarios. 
Recently refreshed to include the latest NVIDIA GeForce RTX 3080 Laptop GPU and up to 32 GB of DDR4 memory, the Helios 300 is ready to drop your students right in the middle of any next-generation game. 
Combining a smooth design with the DTS:X Ultra audio and 3D simulated surround for an immersive audio experience, the Helios 300 will be able to keep up with the longest gaming sessions, also thanks to Acer's CoolBoost™ technology, that enables fans to adjust to keep the device's temperature continuously cool.
Finally, if you wish to build your own esports arena to let your team compete in a professional environment, you may need some extra power.
Predator Orion 3000 answers any player's advanced gaming need. Behind the sharp design of this desktop hides a powerhouse ready to be unleashed with an octacore 10th Gen Intel® Core™ i7 Processor and GeForce® RTX 3070. 
What's more, if your students are fans of personalisation, its newly designed case features customisable lighting of the vertical light bars as well as the two FrostBlade™ fans via PredatorSense™ – up to 16.7 million colours.
To match Predator Orion 3000's elevated performances, complete your stations with the Predator XB3 monitor. Its flexible sculpted stand allows it to create the best comfortable screen position for long-lasting matches, as the 4K max resolution will make the gaming experience as real as it gets.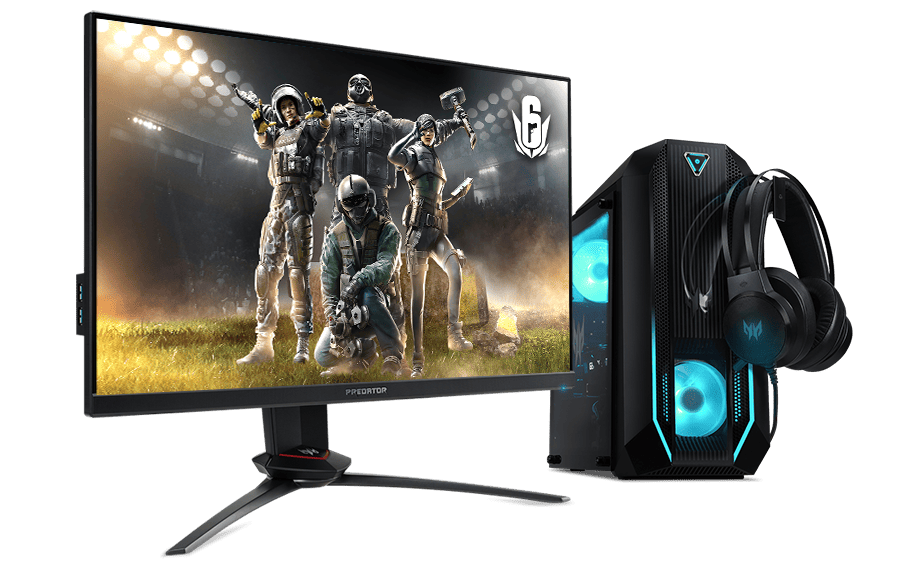 Level Up Esports Education with Acer