Minecraft: Education Edition – The building blocks of engaging learning
Those with their fingers on the pulse of pop culture have already heard about Minecraft – the most-played video game in the world.
The educational edition was released in 2016 and is still making headlines all over the school world.
What's it all about, exactly, and why is "Minecraft: Education Edition" a great fit for learning? Read on to learn more!
What is Minecraft
Essentially, Minecraft allows players to create and break apart different kinds of blocks in a 3-D world.
Technically defined as a sandbox game, its standard edition proposes no goals to accomplish, leaving players free to decide how to play.  Players simply build, explore and survive.
By 2021 Minecraft boasted over 140 million players of all ages worldwide, with numerous spin-offs, including "Minecraft: Education Edition".
Benefits of "Minecraft: Education Edition"
So, what is different about the Education Edition? It basically features the game's original mechanics while offering specific features designed for learning environments.
Like standard Minecraft, the Education Edition allows players to collect, build, craft, and battle non-playable evil characters called mobs.  But this game is heavily geared toward STEM classes with purpose-built features.
Teachers new to Minecraft's Education Edition can rely on the support of the hands-on aid provided by the game. And this version features unique "equip educators" options, with exclusive tools for subjects like coding, math and chemistry.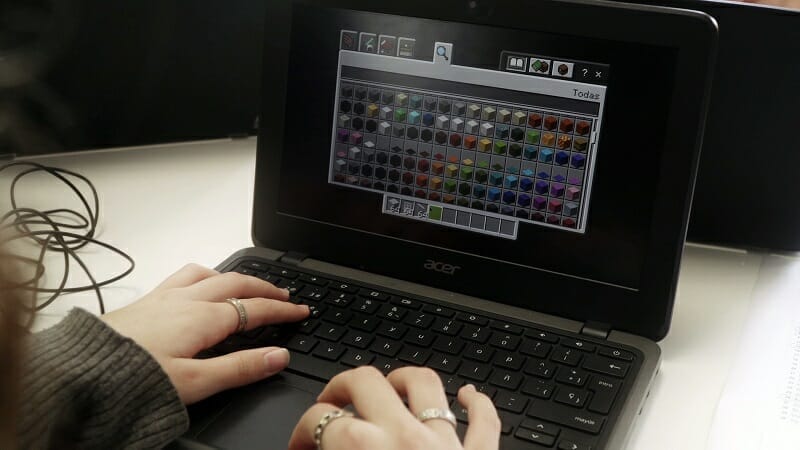 Taking, for example, the latter, the "Education Edition", gives players a chance to collect and combine chemical elements to create compounds such as salt, glue and other standard in-game items.
As for coding, the game features a mob called "the agent". Via a visual interface, students learn the basics of coding and put them to use to instruct the agent or other non-playable characters featured in the game!
First and foremost, "Minecraft: Education Edition" fosters classroom collaboration.  While exploring task management, problem-solving or social-emotional skills, pupils build future-ready abilities in an immersive, creative way.
Get started with "Minecraft: Education Edition"
Want to take a closer look at "Minecraft: Education Edition"?  Join Acer Teachers Community & Academy, and find a webinar on this topic under the "Esports" category!
Or start your free trial here.