The author of this magazine article is Ivano Cimaglia, EMEA Business Manager Gaming Notebook e HMD.
Mixing video games and education is, for most teachers, still a novelty, and like all novelties, it is regarded with suspicion. But having a team of competitive gamers in your school can be just as beneficial as providing traditional sports programmes.
Being a part of an esports team is no different from being a part of any other team: as we already said, esports in education foster teamwork and social skills and give students a fun outlet that improves a number of abilities they can use outside of gaming, among them decision making, multitasking, and general brain development in the form of enhanced perception, cognitive skills and concentration. Provided that they play responsibly, involve your students in esports and watch their friendships grow and their academic performances soar—as long as they have the right equipment!
Embarking on a journey to integrating esports into your school curriculum can be a new and exciting adventure, and just like you would never think of packing up for an adventure without a well-stocked backpack and a map, the road to esports needs the right gear.
Not all esports experiences are the same: as an educator, you should ask yourself a few fundamental questions before committing to your esports project. Is the experience you intend to offer your students temporary or permanent? How serious are your prospective players about gaming?
Such questions can shape your esports experience, and here is why Acer is the answer.
Acer's short-term solutions
If you are not planning to have a permanent esports team in your school, you might not want to invest in relatively large equipment that is there to stay: if you intend your contact with esports to be a short-term commitment such as a summer camp or other time-limited experience, then notebooks are the way to go.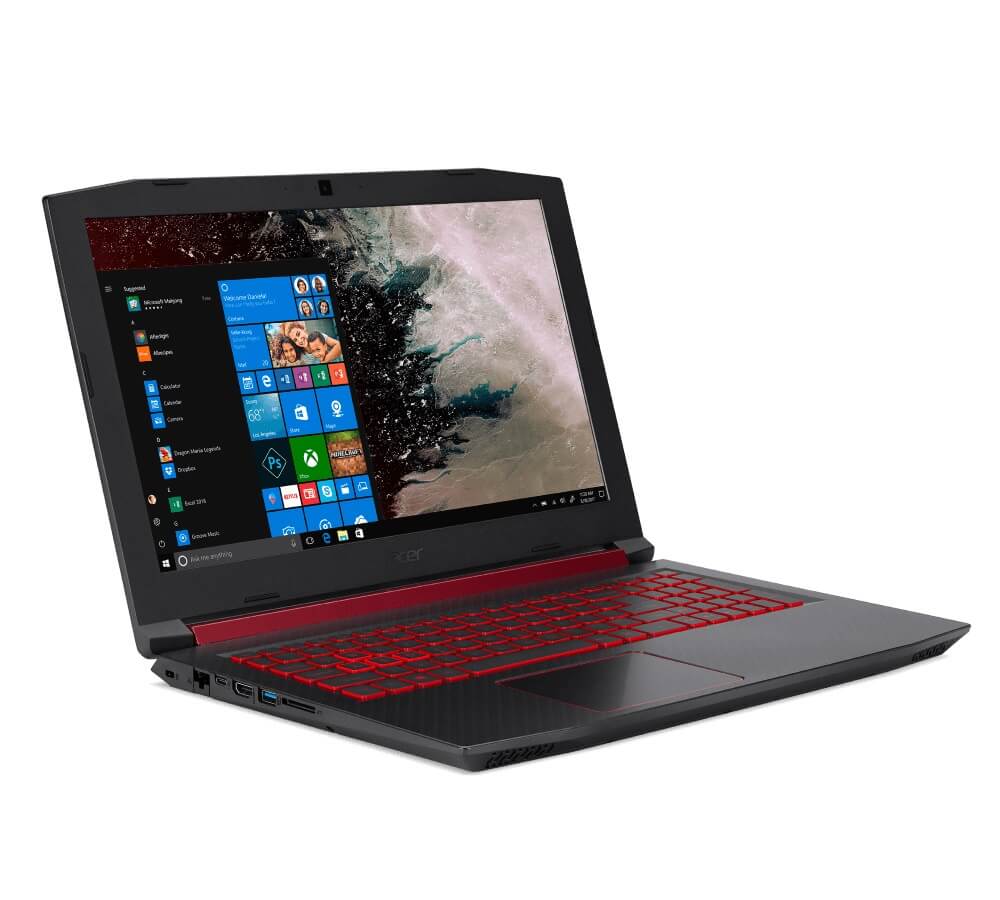 Nitro 5
If this is your first contact with esports, Acer's Nitro 5 notebook is a match made in heaven. Equipped with a 15.6″ Full HD IPS display and boasting Dolby Audio™ Premium and Acer TrueHarmony™ sound technology, it gives casual gamers a crisp, intense experience involving all their senses. Let your players stay cool with NitroSense and Acer Coolboost™: Nitro 5's dual fans ensure that the notebook can easily withstand multiple gaming sessions by several students without risk of overheating and let players monitor the CPU/GPU throughout their gaming adventures. And if things are going well, encourage them to connect with friends and show them their progress with 2×2 802.11ac 160MHz Gigabit Wi-Fi allowing them to share their achievements with the gaming community. Nitro 5's Intel 8th Gen Intel® Core™ H Series processor and AMD Radeon™ RX 560X graphics are the ideal compromise for gamers who want a smooth, fast game and a visually pleasing experience while not necessarily competing with the top players in the field. Overall, Nitro 5 provides quality gaming suitable for non-professionals who care more about a fun, shared experience than about leaving the competition in the dust—all packaged in an attractive exterior featuring a red backlit keyboard and a laser-engraved top cover to play in style!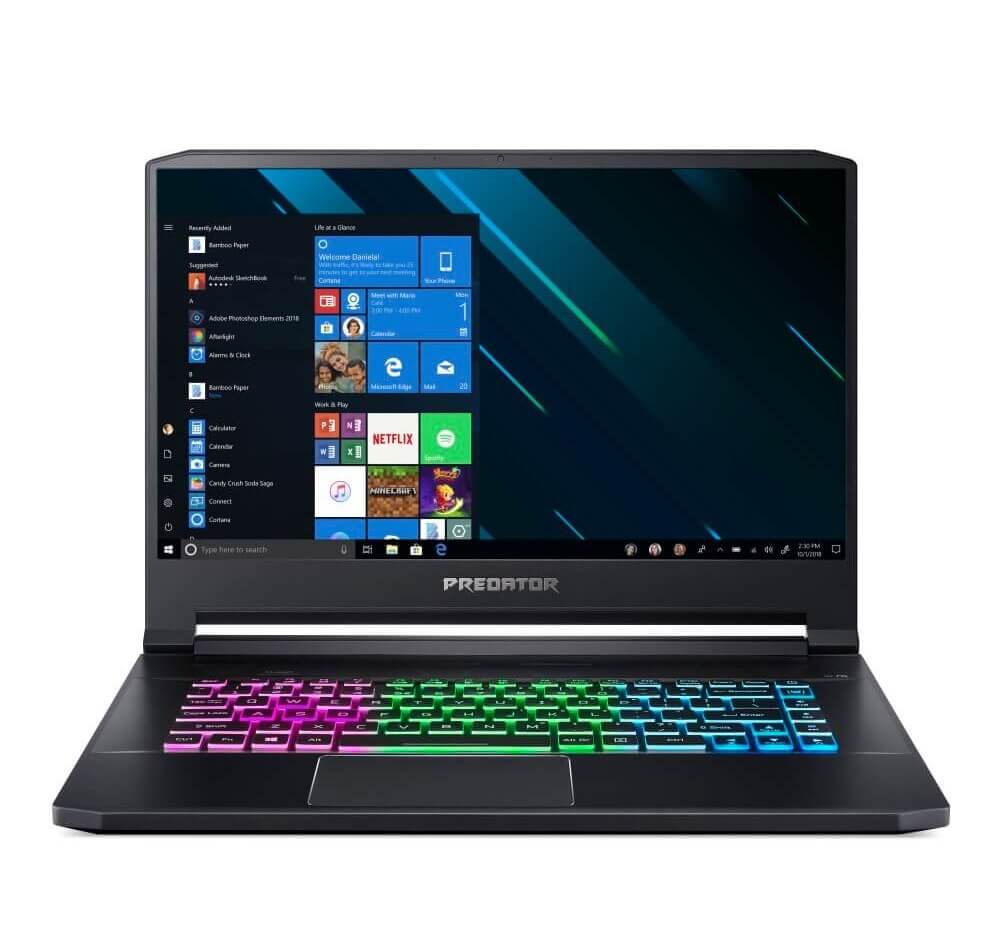 Predator Triton 500
Are your students ready to take the gaming scene by storm? Predator Triton 500 is the next step in the world of gaming notebooks and the perfect mobile solution for pro players. Lightweight and easily portable while at the same time providing a powerful gaming experience, it allows you to play, stream and edit quality gameplay videos anywhere, anytime, at home, at school, or at gaming conventions where you can be the envy of your fellow pros. Inside the black aluminium cover, players will find a keyboard made by gamers, for gamers—with TURBO and PredatorSense™ hotkeys and special concave-shaped keycaps for arrow keys and WASD, the designers of Predator Triton 500 show that they know exactly where a gamer's fingers will be! The combination of Intel 8th Gen Intel® Core™ i7-8750H processor, GeForce RTX™ 2080 with Max-Q Design, DDR4 memory at 2666MHz, and two 512GB PCIe NVMe SSDs in Raid 0 is up to any challenge a professional gamer can throw at it, guaranteeing all the speed and power you might want from a gaming notebook while staying cool throughout many gaming sessions by your entire team thanks to 4th generation AeroBlade™ 3D Fan technology that makes even the most intense session comfortable and safe with its three fans and five heat pipes. Predator Triton 500 is a gamer's dream on the go!
In for the long haul? Acer's got your back!
If your plan is to make esports a permanent feature of your curriculum, then your equipment should be just as permanent: just like your athletes need a gym or some other such place to practice, so do your gamers need a stable place to go, such as a school arena dedicated to esports, and Acer offers a variety of desktop computers and monitors that are ideal to set up such an area.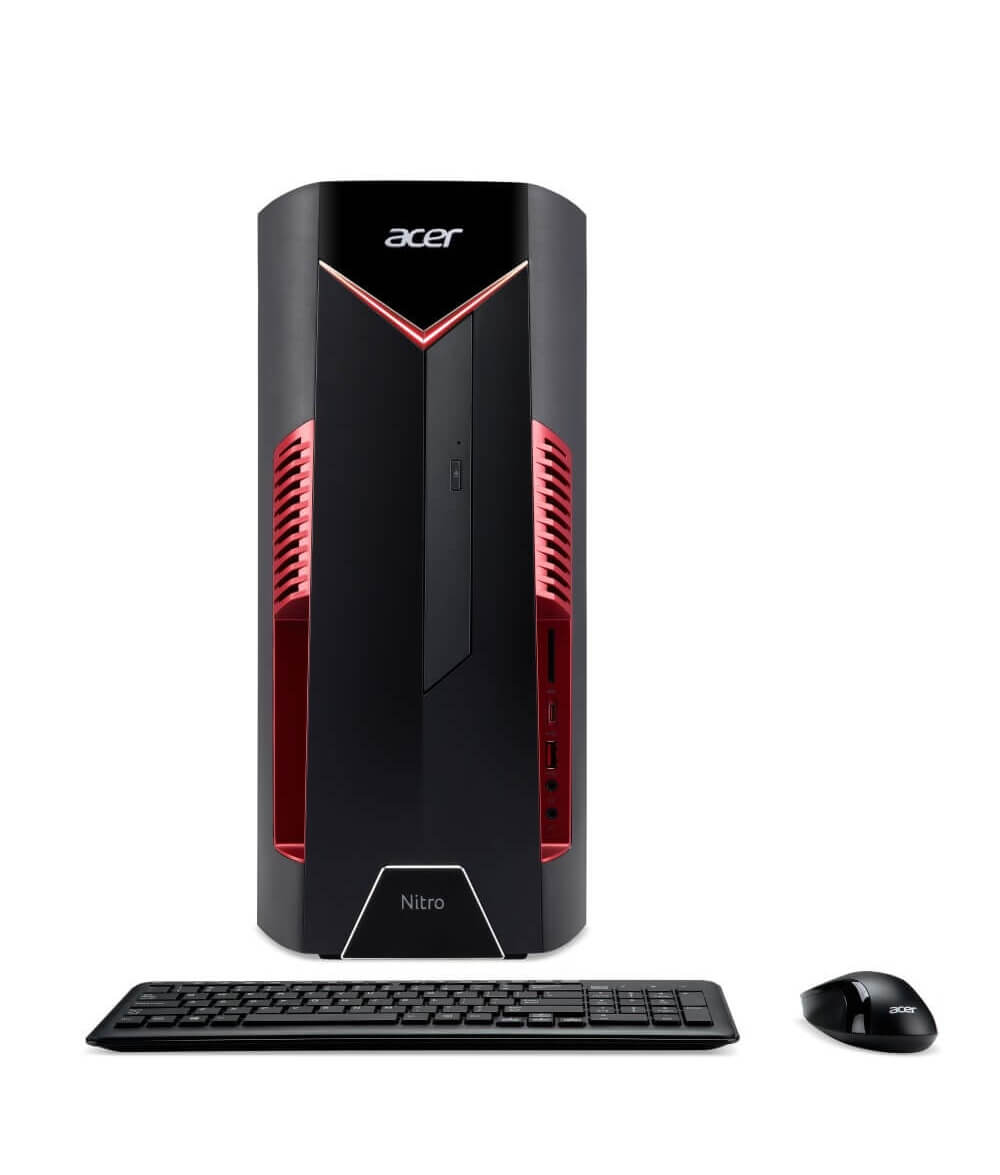 Nitro 50
Do you have a school full of gaming enthusiasts and want to provide a place where they can turn their hobby into a school-sanctioned activity? Acer's Nitro 50 desktop computer is the ideal companion for their endeavours. Designed for casual gamers who want a powerful machine at a competitive price, Nitro 50 focuses on graphic-intensive tasks, from gaming to video editing, and is even suitable for using virtual reality apps, making it the ideal desktop solution for users who want to get a high-quality gaming experience out of their computer, but do not specialize exclusively in esports. With the option of an Intel 8th Gen Intel® Core™ or a 2nd Gen AMD Ryzen™ 7 2700X processor and the intent to give you an intense, multi-sensory experience with NVIDIA® GeForce® graphics up to GTX 1070 coupled with Creative Sound Blaster X 360°, Nitro 50 caters to gamers even further by providing smooth, lag-free sessions thanks to its Realtek Dragon LAN for all their gaming, browsing and streaming needs—all while handily charging their mobile devices with the optional wireless charging deck that allows users to charge compatible devices just by placing them on top of their Nitro 50. Versatile and powerful, Nitro 50 is a computer for gaming and more: if you are just starting out in the world of esports, your team cannot ask for better.
Nitro VG0 Series
Of course, no desktop computer is complete without a monitor—where else are your players going to watch the game unfold? The Nitro VG0 Series meets the needs of a non-professional gamer perfectly, providing a gaming experience that is immersive, comfortable and fun. Within a ZeroFrame™ design that allows you to make the most of your screen lie endless lifelike, colourful scenes you can look at for hours without straining your eyes, in all light conditions. Featuring a resolution ranging from FHD (1920×1080) to 4K UHD (3840×2160), the Nitro VG0 Series is ideal for gamers and graphic designers alike: if vivid colours are important to you, 100% sRGB colour coverage and HDR Ready™ technology will give you a wide range of shades and realistic imagery that stay consistent across devices and even in print, making it the perfect monitor for any graphic-intensive work, not just for gaming. But if gaming is the main use for your monitor, you will not be disappointed: with eight pre-set display modes that adapt not only to gaming or non-gaming tasks, but even to the type of game you are playing, and technologies designed to eliminate screen tearing and maximise user comfort and safety in all environments, you have hours of quality, worry-free gaming ahead of you.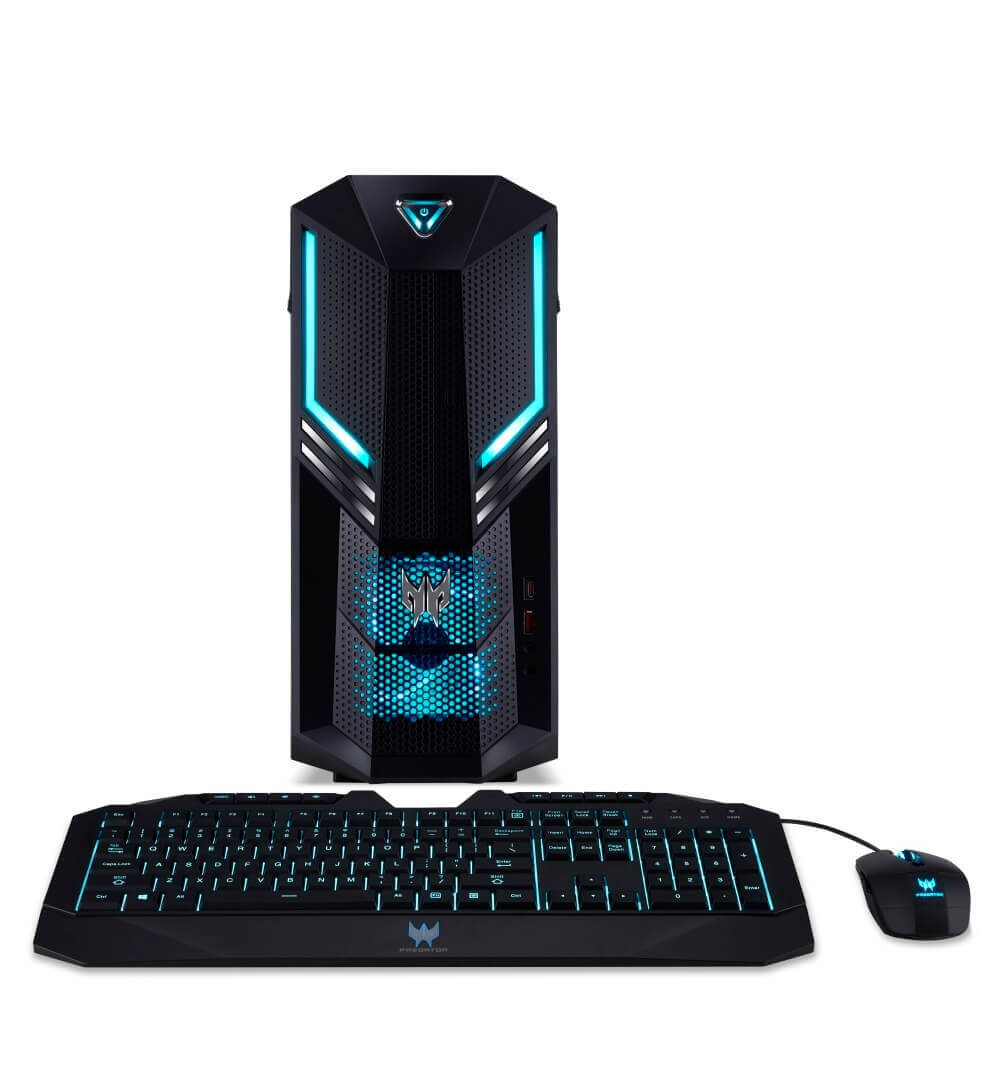 Predator Orion 3000
If you are going beyond casual gaming and into the pro level, your computers will need to match your gamers' skills. Let your pro team perform faster and better with the superior characteristics of Predator Orion 3000. An 8th Gen Intel® Core™ i7+/i5+ processor and NVIDIA® GeForce® graphics up to RTX 2070 make Predator Orion 3000 a gaming powerhouse for all your advanced gaming needs. Designed to build confidence in aspiring pros with everything from its futuristic design to its game-oriented capabilities and unafraid to explore the new frontiers of VR gaming, this is your go-to desktop solution whether you are playing on your own or in an online community: a Dragon LAN and 802.11ac 2×2 wireless connection guarantee a high-speed online experience to strategize with your teammates in real time. With Predator Orion 3000, the prospect of an intense, highly competitive esports tournament becomes music to your ears—quite literally, with Creative Sound Blaster X 720° making your auditory experience the best it can be and headphone cradles integrated into the design for a place to rest them after your latest hard-earned victory. And never worry about heat building up while you put your Predator Orion 3000 through its paces: with front and rear LED fans and a front mesh allowing maximum cool air intake, your computer will stay cool through the hottest competitions.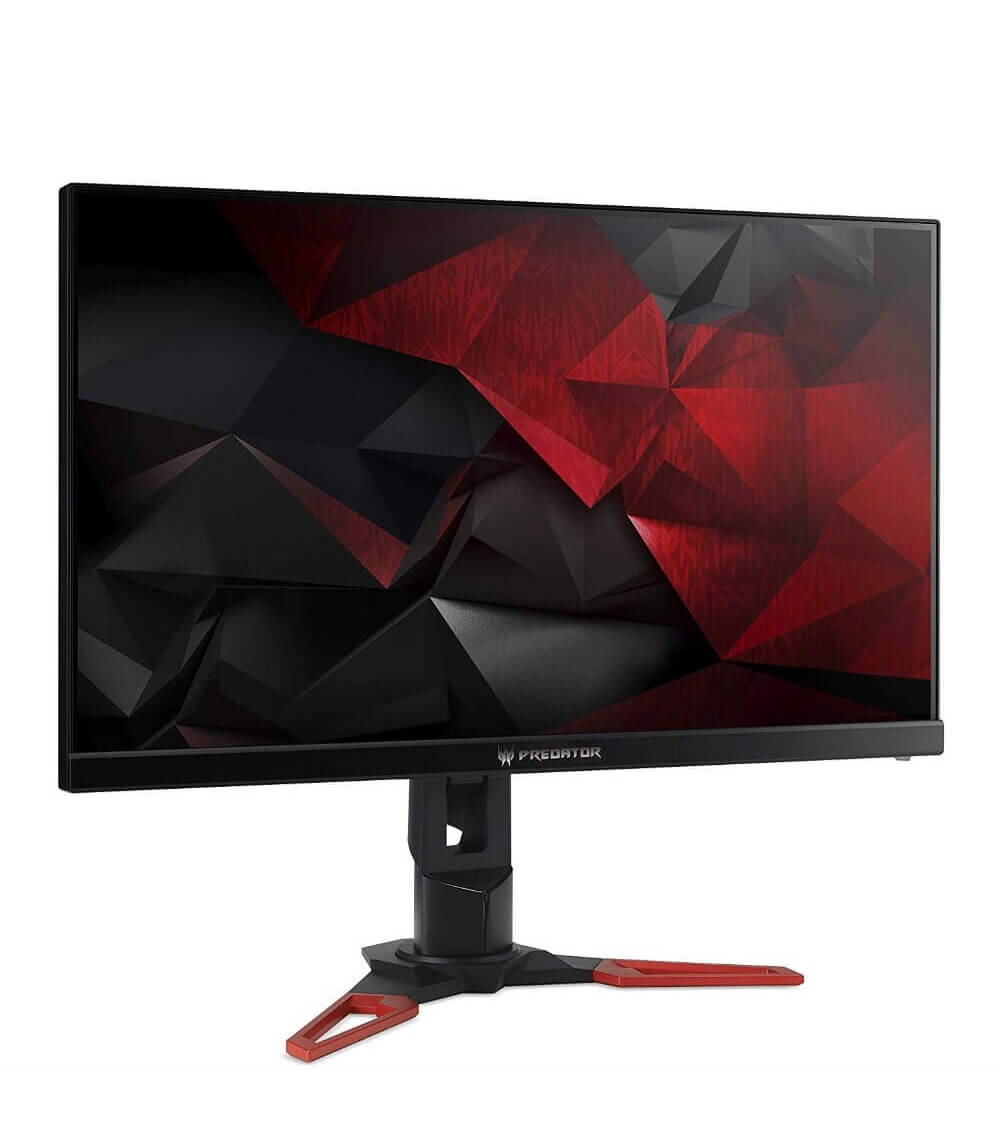 XB0 Series
A professional gamer's computer needs a monitor that is up to the challenge, and what better than Acer's XB0 Series to provide your best players with the best experience? Designed to provide an outstanding visual experience and the highest degree of comfort for your eyes and your whole body while remaining eco-friendly, the XB0 Series has gamers in mind first and foremost. With a resolution range far beyond Full HD, going from WQHD (2560×1440) to UHD (3840×2160), you will be fully immersed in your gaming world, while NVIDIA G-SYNC™ technology, Ultra Low Motion Blur, a 144Hz refresh rate and a response time of 1ms all cooperate to give you the fastest, smoothest gaming experience you can hope for, with no screen tearing and reduced blurring of fast-moving objects. In short, the XB0 Series provides monitors that can keep up with your gaming computer's performances, allowing you to make the most of both your computer's power and your own skill, without the inconvenience of lag dragging you down while you are at your peak. And if you are concerned about the state of your eyes after hours of non-stop gaming, you can breathe easier—Acer's Flicker-less, Low Dimming and ComfyView technologies are a triple threat to eye strain that optimises your experience whether you are playing in dim light or with the reflection from a light source making viewing less than ideal. With the XB0 Series, your gaming becomes so real you can almost reach out and touch it.
Are you a teacher? A school principal or an IT manager? Or are you a reseller?
If you would like to know more about the Acer project to include esports in education, please feel free to write me at cristina.pez@acer.com. Let's get in touch!